Filtration as another war crime of the Russian Federation: what is happening and where?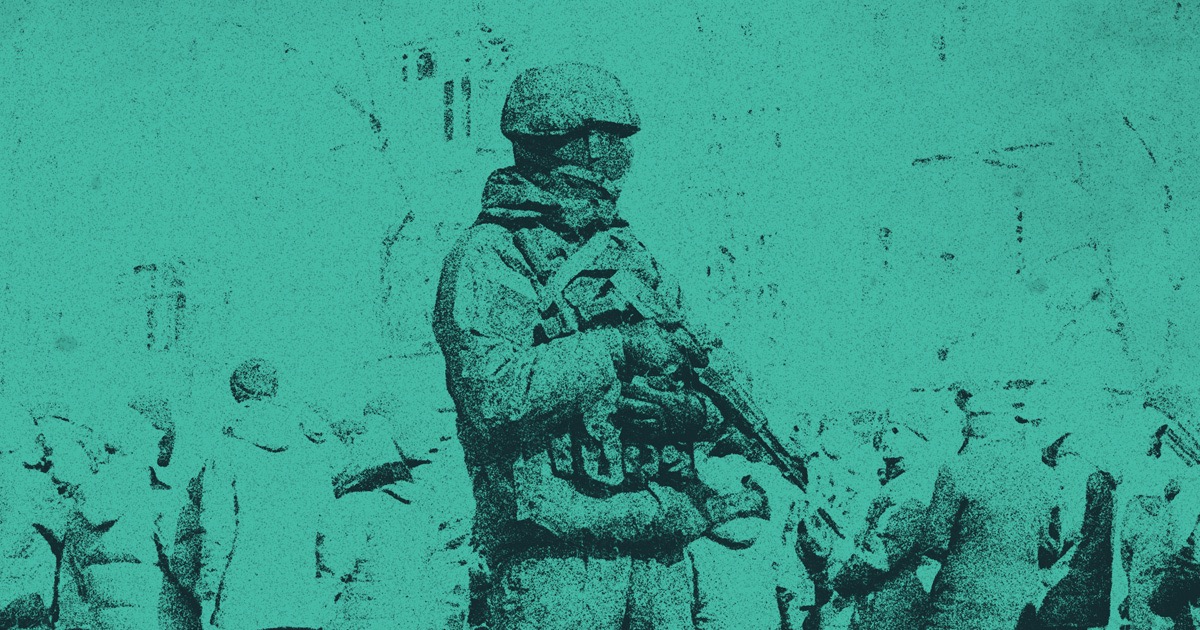 The Media Initiative for Human Rights has prepared a study on filtration arranged by Russians in the temporarily occupied territories. MIHR notes that this is another war crime of the Russian Federation. Svidomi, in collaboration with the Media Initiative, tells about filtration camps and stories of people who have experienced filtration.
During the full-scale offensive, Russian troops occupied about 20% of Ukrainian lands. In the territories where the Russian army is entrenched, the Russian Federation establishes occupation power and conducts filtering of the population — this is how Russians are looking for pro-Ukrainian people.
According to eyewitness accounts for the MIHR, filtration has three levels.
Such filtering takes place at checkpoints during the visit to the territory controlled by Ukraine. Here they check documents and personal belongings and can check the car or housing. After that, people are directed to special points where filtration camps are deployed.
"At the checkpoint in Manhush, my daughter and I were checked on the spot, and my husband and son were taken inside the checkpoint. They were undressed, checked for tattoos, scuffs from weapons, etc. And when the son was undressed, they saw that he was wearing the Armed Forces undergarment — a green T-shirt of a serviceman. And that's all. He was brought out at gunpoint of two machine guns", — the inhabitant of Manhush tells.
The second stage is the main type of filtration, after which a person is either released or detained for additional verification. During the inspection, psychological and physical pressure is exerted, and there are known cases of shootings.
"The man walked in front of me. They checked his documents, took his passport, told him to step aside, called someone, and handed over his data by phone. After the conversation, they said that he would be taken for interrogation. At 00:30, a military officer entered the room, called the surname of the man, and ordered him to go out. The man never came back again. His mother tried to find out where they had taken him. They replied that no one would tell us that he had to be shot immediately. Until the man was taken away, he was warned to prepare for torture", — the wife of a resident of Mariupol about Bezimenne.
Third level: pre-trial detention centres and colonies
People who have not passed the previous levels are sent to detention centres or prisons in the temporarily occupied territory of Ukraine. Detainees are tortured, not provided with enough food, water, or medical care, held in unsanitary conditions, and killed.
"It hardly ever happens to be brought to the pre-trial detention centres of Donetsk and not be tortured. I saw what was done to the Ukrainian military, they were subjected to electric current. No Geneva Conventions are in question. Then I was transferred to Olenivka. The conditions there are terrible. We had 40 people in one cell, 30 people sleeping, and 10 were standing, and we were changing like that. We were all given five litres of water. There were no sanitary conditions at all. In addition, everyone was constantly beaten", — Oleksii said about Olenivka.
"I was brought to the village of Nikolske. They showed me Serhii two times. The first time it was before the interrogation, he was handcuffed, and beaten. And then — after the interrogation, he was already without handcuffs, sitting in a chair, I realized that he could not get up anymore, his face clearly showed how he was being interrogated", — Iryna said about the Rozivka.
Filtration camps are mostly located in the temporarily occupied territories of the Donetsk and Luhansk regions. The Media Initiative for Human Rights has identified 18 camps: in the cities of Amvrosiivka, Dokuchaevsk, Donetsk, Novoazovsk, Starobilsk and Luhansk; in the villages of Anadol, Nikolske, Manhush, Starobesheve, Bezimenne, Buhas, Olenivka (2 camps), Chornukhyne; the Snizhne-Marynivka motorway (11th km, Stepanivka post) and the Odesa-Melitopol-Novoazovsk highway (619th km, Manhush post). Most of them are the premises of pre-trial detention centres, colonies, police departments, and administration. However, this list is not exhaustive.
According to the Main Directorate of Intelligence, people from Rubizhne were taken for filtration to Starobilsk, Luhansk and Sorokyne, from Popasna — to Pervomaisk and Kadiivka. There is also information that the filtration camp is arranged in the village of Velyka Lepetykha in the Kherson region. MIHR emphasizes that filtration measures against Ukrainians are also taking place in Russia.