Artists Against War: The Visual Language of War. An Interview with Kseniia Pylypenko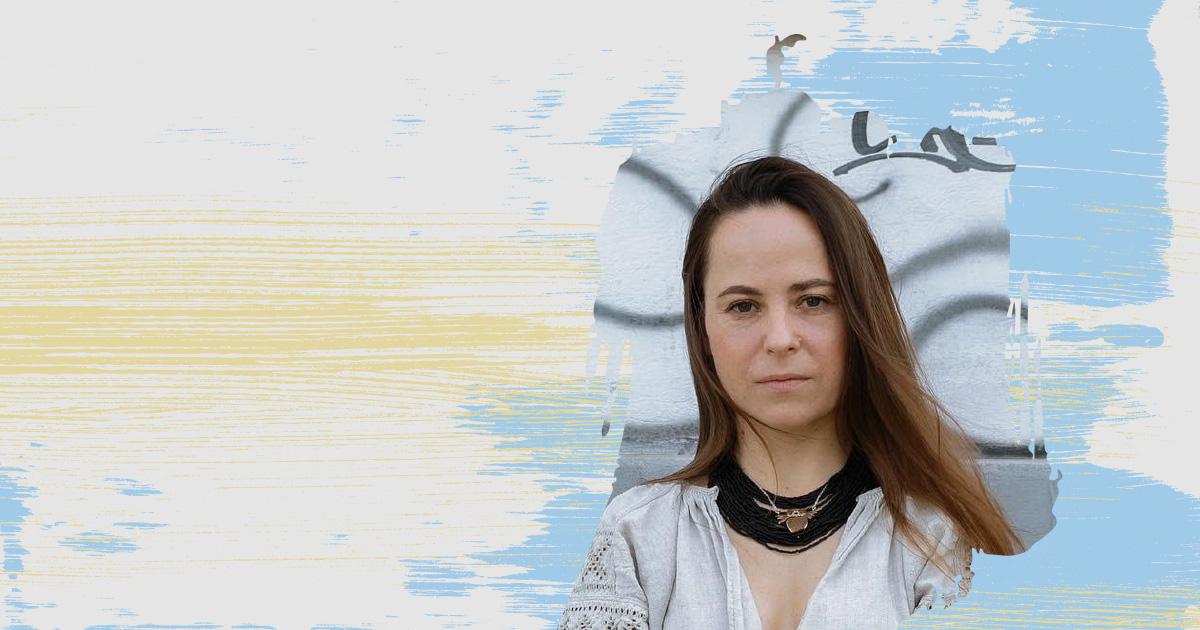 Svidomi in collaboration with Artists Against War, an online gallery of posters created to support Ukraine after the Russian full-scale invasion, tell the stories of the artists who help Ukraine by means of art. Read an interview with the artist Kseniia Pylypenko in the carousel.
What did you do before February 24?
I was mostly a yoga teacher. On February 24, I was supposed to take a group on a yoga tour to Egypt. My suitcases were packed with summer clothes and all kinds of postcards and some butter which we wanted to give to our participants as gifts — all of this was left at home. I taught yoga in the best yoga centre of Ukraine, dare I say it — Maharaja in Kharkiv.
I also drew; I always draw. I have a yoga clothing project, and I design prints, adapt them to patterns, print on fabric and sell yoga clothing: various tops and leggings. I decided to combine my hobbies, and this is how this project was born.
I made holiday postcards. And I sold them in my friends' coffee shops. Is it even possible to live in Kharkiv and not open a coffee shop? (laughing)
So, if we talk about art, then your creativity was more devoted to postcards and clothing, right?
Art is what inspires me: once I went to the Frida Kahlo exhibition in Budapest, came back home inspired, and dedicated a print to it; I looked through some books on art and pictured the jungle, like Rousseau's.
I have been practising art all my life, so this thing is always with me as a background activity. Whatever I did: be it a wedding decorator or creating prints for T-shirts. I have always been drawing, and when I took up yoga, I was also drawing.
Can you describe your day of February 24?
I was in Kharkiv, and I woke up to the sounds of explosions.
Our flat is on the outskirts of the city, and the explosions were close to us. You might have heard in the news that Chuhuiv was bombed — it was literally 10 kilometres from my house. When there was another explosion very close, 5 kilometres away, in Dokuchaievo, a small village with a university and an arboretum where I used to jog, I had no other choice but to get in the car and go away. This explosion was a sign to flee.
I woke up, and you know how cats jump up with four paws at once — that's how I did it — I woke up, jumped up, and in a few seconds I was standing at the door dressed in jeans and a sweater. I packed my go-bag. Nuts, dried apricots, and hydrogen peroxide — that was my go-bag. I understood that the war had started, but I could not understand what was going on. Nothing in the news. Then I called my relatives, and they said that they also heard explosions.How has the war affected your work? And how do you reflect during the war?
For the first two days I did nothing. I started drawing, I think, on the third day. I drew a pigeon with a rifle and a helmet. This was the first illustration with which I decided to make stickers. Since then, I started drawing. I have a tablet with me; I'm glad that I was clever enough to take it with me, because otherwise I don't know how I would draw. First, we left for a country house in the Kharkiv region, but every day we heard explosions in a neighbouring village. When it was bombed, we left for Dnipro. It was nice to make art to these sounds.
In my creative work, I try to base on my feelings, and then the illustrations come by themselves. And I just draw, draw, and draw. This is how it happened with the trident which I created for two days before March 8.
When photos and videos from Bucha were made public, I could not do anything, I was in a stupor. I understood that it should take some shape, I understood that I had to do something, and not just scroll the feed, but only in the evening did I draw burning matryoshka dolls. It was a picture that came as a result of those feelings accumulated during the day. When I was drawing, I thought that it was unpleasant for me to draw matryoshka dolls, that I didn't want to draw matryoshka dolls. But to kill a matryoshka doll, you have to draw it.
— In your opinion, can art become another support in the war? Or is art about reflection?
— I think that art has indeed become a support. I look at the way I react, and I think that probably people react in the same way too. Art has now become an element of fight. First of all, when pictures spread all over the world, people from other countries can see not only the horrors of war, they can also see the rear, the people who promote Ukraine as a strong element of the global culture.
This means to raise a whole layer of Ukrainian culture, and culture becomes popular. All this semantics is finally being revived. Even Andrii Khlyvniuk, while he was singing Chervona Kalyna (Red Viburnum), hardly thought that he would be singing with Pink Floyd. Now, art popularises Ukraine as something good, and not just the horrors of war.
It seems to me that in no war was there such a culture boom as in Ukraine. This is a culture breakthrough, when the world got to know about Ukraine not only because we have a war, but because we have talented people.