Russia illegally detains at least 183 Kremlin prisoners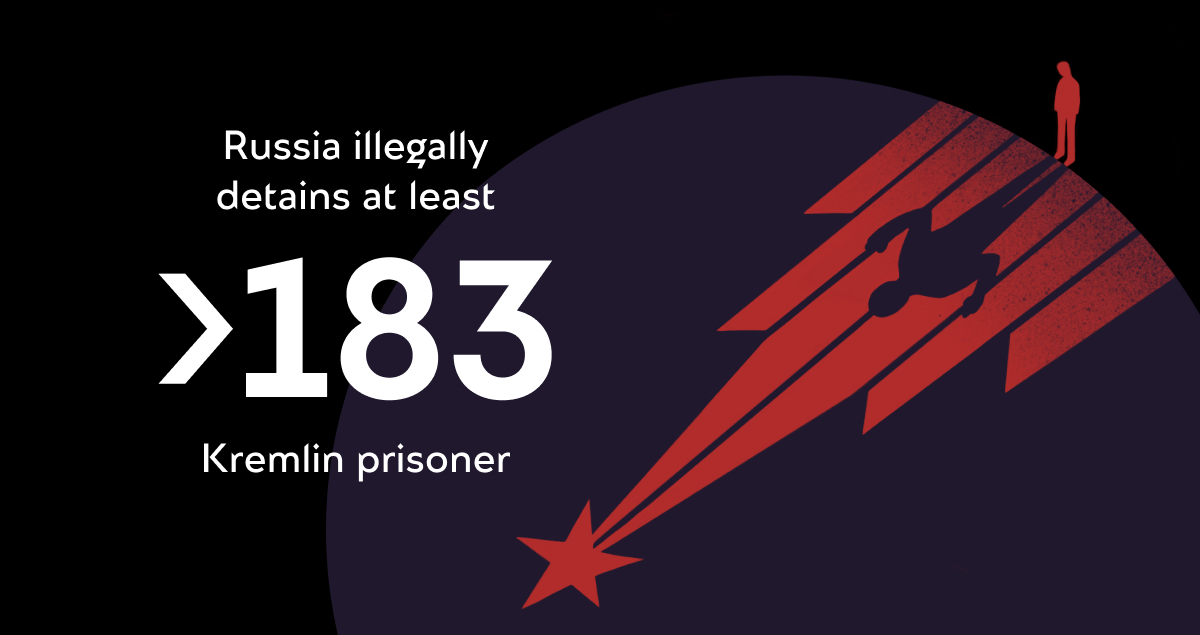 According to the Office of the Representative of the President of Ukraine in the Autonomous Republic of Crimea, this is the number of illegally detained Ukrainian citizens held by Russians in the temporarily occupied Crimea. 40 of them are arrested, 125 are imprisoned, and 18 people have no procedural status. About 60% of the illegally detained are Crimean Tatars.
In addition, Russians illegally detain Ukrainians in other temporarily occupied regions. There is less public information about their fates, as Russia denies the facts of these illegal arrests.
On February 5, Russians searched the house of the head of the Sudaq Mejlis, Ilver Ametov
They came allegedly to check information about the murder of Ametov's son's wife.
The head of the Mejlis of the Crimean Tatar people, Refat Çubarov, reported this.
Later, activist Elmaz Kyrymly said that 40 security forces officers conducted the search. The Russians claimed that they had allegedly received a call from a person from a landline in Kyiv and said that Ametov's son had killed his wife.
Over 20 Crimean Tatars were released from illegal administrative arrests this week
Russians illegally detained them on January 27. On January 26, Crimean Tatars came to the occupation court to support other illegally detained people.
Crimean Solidarity reported this.
Another 5 illegally detained citizens of Ukraine are under administrative arrest.
It will be recalled that on January 26, Russians detained 34 people outside the occupation court. They supported six Crimean Tatars who were kidnapped by Russians on January 25.
The Russians continue to deny that they abducted 74-year-old Spanish citizen Mariano García Calatayud
His whereabouts have remained unknown since March 19. He had lived in Kherson for the last 8 years and remained in the city after the beginning of the temporary occupation.
Crimean Human Rights Group reported this.
After García retired, he moved to Ukraine. He made this decision inspired by his father's stories about how Soviet Ukraine accepted thousands of refugees from Spain as they were fleeing the dictatorship of Francisco Franco in the late 1930s.
In Ukraine, García lived in Kherson and helped veterans of the Russian-Ukrainian war. After the start of the temporary occupation, he protested against the Russians.
On March 19, the Spaniard disappeared. Witnesses claim that he was kidnapped by Russians. At the request of one of the Crimean lawyers, the Russian security forces replied that they had no information about García.
García's family calls on Spain to ask Ukraine to exchange him, El Español reports.
On February 7, illegally detained Ukrainian citizen Kostiantyn Shyrinh died in custody
The Russians abducted Shyrinh in 2020. The man was 61 years old, he had cardiovascular diseases, but Russian security forces did not provide him with medical care.
Crimean Human Rights Group reported this.
On April 15, 2020, Russian security forces illegally detained Ukrainian citizen Shyrinh. A Russian citizen Tatyana Kuzmenko was arrested together with him. They were "charged" with espionage.
In 2021, the occupation court in Crimea sentenced Shyrinh to 12 years in prison. The appellate court did not change the "sentence." As a result, the Russians illegally transferred the Kremlin prisoner to a colony in the Orenburg region, where he was illegally detained since June 1, 2022.
Despite his health problems, Shyrinh had no access to medical care. The Russians took away his medication and blood pressure monitor.
Russians accuse illegally detained Mykola Petrovskyi of espionage
Despite his disability, Petrovskyi helped Kherson residents leave the temporarily occupied city. Russians kidnapped him and have been illegally detaining him for about 11 months.
Crimean Human Rights Group reported this.
In 2012, Petrovskyi got into a motorcycle accident, due to which he lost part of his leg and received a head injury, hence his vision and hearing are impaired. He received poor-quality prosthetics, which caused Petrovskyi to develop back problems.
Despite this, the man helped Kherson residents leave the temporarily occupied city. On March 27, he went to a meeting but did not return – the Russians illegally detained him.
When the Russian army was retreating from Kherson, the security forces took Petrovskyi to the temporarily occupied Crimea. Now he is being held in detention center №2 in Simferopol.
After 11 months of unlawful detention, the Russians "charged" Petrovskyi with espionage.