~Russia illegally detains 20,000 Kremlin prisoners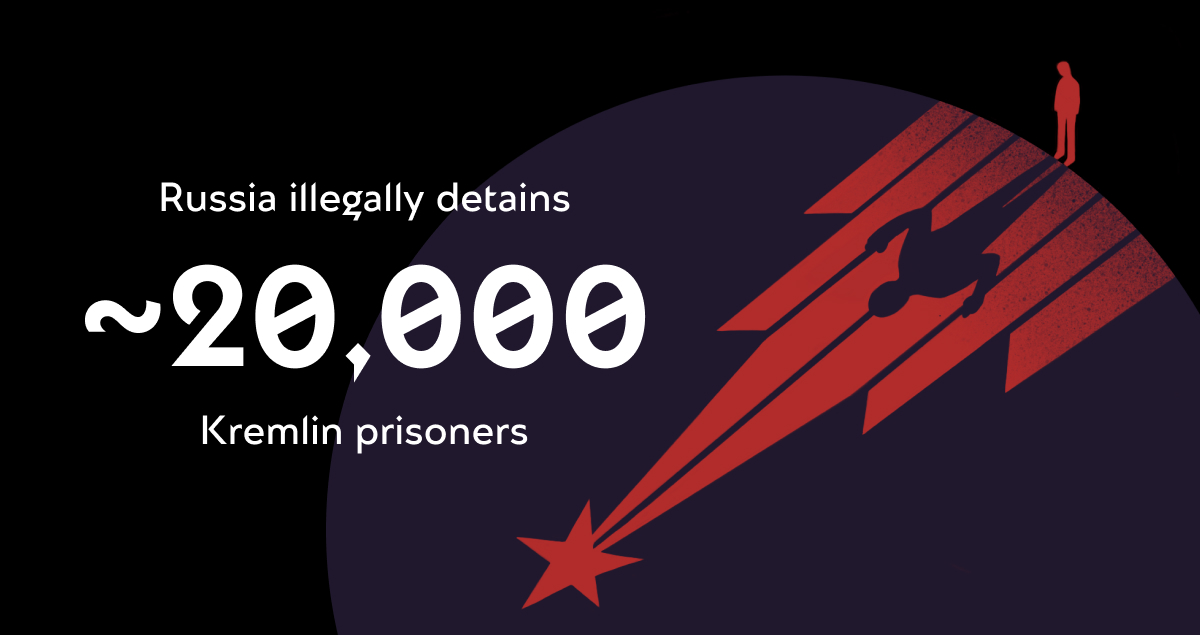 According to the Ukrainian Parliament Commissioner for Human Rights, Dmytro Lubinets, this is the number of civilians abducted by the Russian Federation. This estimate is based on the number of appeals received by the Commissioner from relatives of the abductees.
The Media Initiative for Human Rights has identified about one hundred places of abducted civilians' detention.
The Mission of the President of Ukraine in ARC confirms 182 illegally detained Ukrainian citizens, 60% of whom are Qırımtatarlar.
Russians do not provide medical care to 68-year-old prisoner Khalil Mambetov
Kremlin prisoner Khalil Mambetov suffers from osteoarthritis. His relatives send him medicines to the detention centre, but he does not receive them.
His wife, Lilia, told Crimean Solidarity about it.
On January 24, security forces illegally detained Khalil Mamebtov. Since then, he has been held in a pre-trial detention centre, where he is not provided with medical care.
Recently, Mambetov was transferred from one detention centre to another. During the transfer, his belongings — a Koran and glasses — disappeared. During the meeting, Mambetov's wife Lilia visited him in the new detention facility, but the Russians forbade them to speak Krım-tatar dili [Crimean Tatar — TN].
Russians detain two Ukrainians on charges of "preparing terrorist attacks" on Russian nuclear power plants
Russian security forces have detained two Ukrainian citizens, accusing them of planning to disrupt the operation of nuclear reactors. Another Ukrainian citizen has been put on the wanted list.
This is evidenced by Russian propaganda statements.
On May 25, propagandists announced that Russian security forces had detained two Ukrainian citizens. The security forces claim that the Ukrainians were planning to blow up the power lines of two nuclear power plants — Leningrad and Kalinin. This would have allegedly led to the shutdown of the nuclear reactors.
In addition, the Russians put one Ukrainian citizen on the wanted list.
There are no details about the detainees.
Within a week, the "court" of the illegal armed group "DPR" passed "sentences" against five prisoners of war who participated in the defence of Mariupol
Mykhailo Shvets, Maksym Kondrashov, Yevhen Vysotskyi, and Oleksandr Pedak defended Mariupol as part of the Azov regiment and Yan Khudoba — as part of the 36th separate marine brigade. The gunmen illegally detained all the prisoners of war.
This is evidenced by the statements of Russian security forces.
Mykhailo Shvets took part in defence of Mariupol as part of the Azov regiment and was taken prisoner. A court of the 'DPR' illegally sent him to prison on trumped-up charges. He was charged with "ill-treatment of civilians". The militants sentenced him to 22 years of illegal imprisonment.
The same charges were brought against Azov prisoners of war Oleksandr Pedak and Yevhen Vysotskyi. As a result, the Russians illegally sent them both to prison for 25 years.
Instead, the "court" sentenced Maksym Kondrashov to life imprisonment. So, again, a case was fabricated against him under the same article.
Marine Yan Khudoba was also taken prisoner during the battle for Mariupol. "The 'court' sentenced him to 25 years in prison. Russian security forces fabricated charges against him for "cruel treatment".
In all cases, Russian security forces forced prisoners of war to slander themselves and used this "testimony" to convict them.
Russian security forces kidnap pensioner couple in temporarily occupied Melitopol
In early May, Russian security forces kidnapped a married couple, pensioners Oleksandr and Iryna Levchenko, in the temporarily occupied city of Melitopol and are trying to fabricate charges against Oleksandr Levchenko. Iryna's fate is unknown.
This was reported by the Centre for Investigative Journalism and the Zaporizhzhia regional organisation of the National Union of Journalists.
On May 5, Iryna and Oleksandr Levchenko last contacted each other. Unfortunately, there is no exact information about what happened after that.
However, it is known that on the first day of their abduction, they were held on the premises of the occupation forces in Melitopol. Later, Irina was taken away, and Oleksandr was accused of 'terrorism'.
Iryna Levchenko worked in journalism for about 30 years, and Oleksandr worked at factories in Melitopol. Both are now retired and have health problems.
Russians detained at least five people over the week on charges of membership in the Noman Celebidzhikhan battalion
On May 25 and 29, Russian propaganda announced the arrests of Ukrainian citizens on membership charges in the Crimean Tatar volunteer battalion named after Noman Çelebicihan. Russians detained five people.
Russian propaganda media reported this.
On May 25, Russians announced the detention of three people in the temporarily occupied Kherson region. Propagandists do not disclose information about the detainees. All that is known is that they are about 59, 52 and 42 years old.
On May 29, Russian propaganda announced the detention of two brothers born in 1999 and 2000, who lived in the temporarily occupied Razdolnensky district in Crimea. The brothers were allegedly detained when crossing the administrative border between the Kherson region and the peninsula.
Russians fabricate a third case against Kremlin prisoner Oleh Prykhodko
Earlier, the security forces had already repressed Prikhodko on trumped-up charges of 'preparing a terrorist attack' and 'contempt of court'. A third case has been opened against him, but its content is unknown.
This was reported by the Association of Relatives of Political Prisoners of the Kremlin.
To recap, in 2021, a Russian court sentenced Prykhodko to 5 years in prison on a trumped-up case of preparing a terrorist attack. Then, in 2022, another court added another month to his sentence for "contempt of court". During the previous case, Prikhodko had used foul language about the FSS operative who had planted explosives on him.
Now, according to the Association of Relatives of Political Prisoners of the Kremlin, another case has been opened against Prikhodko. Still, its content is being determined, as Prikhodko does not have a lawyer.
On May 30, Russian security forces searched the house of Crimean Tatar Ridvan Rustemov in the temporarily occupied Eski Qirim [Old Crimea - TN].
Russians came to the house of Crimean Tatar Ridvan Rustemov with an illegal search. After the search, he was taken to an unknown location, detained for several hours and released without explanation.
Rustemov reported this to Crimean Solidarity.
Ridvan Rustemov lives in a rented house in the temporarily occupied Eski Qirim. On the morning of May 30, Russian security forces from the Occupation Ministry of Internal Affairs arrived. They searched the house, put Rustemov in a minibus and took him to an unknown place.
They held him there for several hours and released him. However, he still does not know what motivated the actions of the security forces.
On May 31, a Russian court sentenced four Crimean Tatars to 53 years in prison
A Russian court passed a verdict in the case of the so-called second Aqmescit [Simferopol - TN] group. The Russians sentenced Dzhebbar Bekirov to 17 years in prison, and Rustem Taiirov, Rustem Murasov and Zavur Abdullaiev — to 12 years.
Crimean Solidarity reports it.
In August 2021, Russian security forces illegally arrested four Crimean Tatars in the temporarily occupied Crimea: Dzhebbar Bekirov, Rustem Taiirov, Rustem Murasov and Zavur Abdullaiev. The Russians accused them of creating a "terrorist organisation" and planning to "seize power by force".
The security forces used secret wiretapping materials to fabricate the case. At the same time, the linguistic expert who analysed the recordings for the investigation could not name specific examples of statements about violence, terrorism or seizure of power.
The investigation also used a secret witness who was supposed to identify Rustem Taiirov. Instead, the witness pointed to another person, recorded in the test report. However, the investigation and the court interpreted this as a 'typo'.
Eventually, the Russian court passed a sentence: 17 years of illegal imprisonment for Dzhebbar Bekikrov, 12 years for Rustem Taiirov, Rustem Murasov and Zavur Abdullaiev.