"This is a memorial to those who did not survive in Mariupol." An interview with Mstyslav Chernov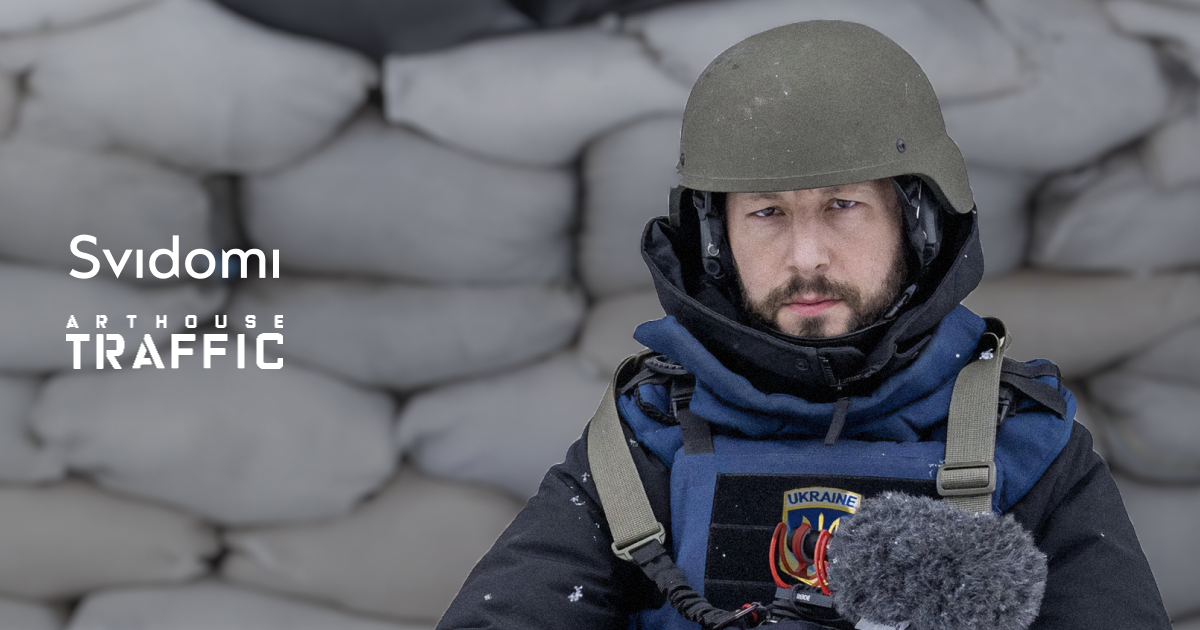 On August 31, the documentary film 20 Days in Mariupol by Mstyslav Chernov will be released in Ukraine.
After the start of the full-scale Russian invasion, journalist and photographer Mstyslav Chernov, together with photographer Yevhen Malolietka and producer Vasylisa Stepanenko, were the only international journalists working in Russian-occupied Mariupol. Chernov brought the footage from there.
The film was first screened at the Sundance Film Festival in the US, where it won Audience Award in World Cinema Documentary category.
The Ukrainian premiere took place at the Docudays UA festival, where 20 Days in Mariupol won the best film in the National Competition and the Audience Award.
Read about the stay in Mariupol, the evacuation, the filmmaking, the reflection on what he saw, and the reaction of foreigners to the film in this article.
How are you feeling now, after what you went through in Mariupol and the release of the film?
— I feel that we need to work even harder. We left [Mariupol] on March 14, and the next day, we heard about the bombing of the Mariupol Drama Theatre. I thought a lot about the fact that maybe we should have left later.
The film has been released in many countries. I see how the audience perceives it and realise we need to do more. During the information war, context is one of the most important components of the correct interpretation of the information we receive. Documentaries, large projects, investigations, films, and books help with this.
We are continuing to work with the individuals featured in the film. We conduct interviews with them and involve them in the investigation of Russian crimes. This is not something you do and forget because the story of Mariupol is not over, the work continues.
You are the only journalists who were able to show what was happening in Mariupol in the first days of the full-scale invasion. The very title of the film already gives the context of what the movie will show, but is there anything new? What is this film for Ukrainians, and why should they see it?
— There is a lot of footage that I couldn't send because there was no connection. This is at least 30 hours of video. There were moments that no one saw because people were in Russian captivity, and we could not publish them.
I was a little worried when the people of Mariupol saw the film. I was afraid that it would traumatise them and they would relive these events. However, these people did not just see and re-experience a small part of what happened to them. They now know that the whole world has seen it.
The film is made in such a way that even a viewer who is far from Ukraine will find themselves in the middle of the events described: we take them to the tragic events, and they cannot leave. The viewer will experience it together with the people of Mariupol.
Instead, Ukrainians see that this will not be forgotten. It was important for me that it became a reminder of what happened.
What footage did you leave out that was important to you?
— We saw a lot more death, suffering, and destruction, but it didn't make it into the film. You have to keep a balance here. Not to make the perception of the war easier, but not to drive foreigners away.
I wanted to show everyone who lost their families and homes. It was impossible. Some moments were just so terrible that they would have pushed the viewer away.
After the screening, despite everything they have seen, people leave with a sense of hope and strength. Every moment when someone suffers in the film, there are always people who support them. These are doctors, police officers, civilians, and journalists. This gives us the feeling that we are not alone but are going through it all together.
Why did you decide to make a film, since you are primarily known as a photographer?
— When people are far away from the war and don't see something on the news, they think it's not happening. It was important for me to make something to remind people of the war. Especially for those who don't read the news. A film is a different format and a different audience.
One of the important themes of the film is the information war and how information spreads in waves around the world, how it affects people, how the world sees the events in Ukraine and interprets them. To talk about this, we need time and context.
It's not the news, headlines, or newspaper pages that remain in history. History is made in large format. All journalists are now writing the history of modern Ukraine, and in order for this to remain, we must work with large formats because they are the ones that stand the test of time.
Tell us about your decision to go to Mariupol and explain why this city?
— Our film crew was covering the Donetsk and Luhansk regions, where we have been working for nine years. We have been working in Mariupol for several years. The team did not know exactly how and where the offensive would begin, but it was clear that there would definitely be a new wave of escalation. Mariupol seemed to be one of the main targets because the Russians failed to occupy the city in 2014.
What we didn't consider was the speed of the encirclement and how few journalists would be left there. We did not think it would be completely cut off from Ukraine by tens of kilometres of occupied territory.
Why did you decide to stay in Mariupol when international journalists and organisations were already leaving? How did you make this decision?
— Police, military, and doctors had the opportunity to leave. Many volunteers continued to work despite the shelling. It was not just one team of journalists who decided to stay. Many people did.
Lithuanian documentary filmmaker Mantas Kvedaravičius also stayed, and when he tried to leave, he was executed. This could have happened to us.
We did the same thing as hundreds and thousands of people who fulfilled their duties. Many international journalists I know did not leave because they were afraid. At the time, it seemed that the most important stage of this battle was taking place in Kyiv. The Russians were already on their way to Kyiv, and there was a risk that the Russian army would enter the capital.
When did you decide to leave the city? How did it happen? How was the footage smuggled out?
— There were several ways to save the original footage. We wanted to bury or hide it so our friends could hand it over later. There was a possibility to have it transferred by civilians via another road so that we didn't have to take it out ourselves. But we did not want other people to put themselves at risk. So we decided to take it out ourselves. We passed 15 checkpoints, and it was absolute chaos. We knew that the Russians knew our names, but we were lucky that there was no system for checking documents, phones, etc.
We hid hard drives and cameras in the car under the seats and clothes. One of the data cards that Taira (Ukrainian paramedic and volunteer Yuliia Paievska — ed.) gave us was put into a tampon by our producer Vasylisa Stepanenko.
In many interviews, you said that you did not remember a lot of things from the videos. How did you feel watching the videos and photos from Mariupol? Did you reflect on what you went through?
— Everything is reflected upon because you watch each moment over and over again during the editing process and relive it. You write a text and lead the viewer through these events, explaining what is happening.
I didn't remember the moments when I put the camera down, and it was hanging on my shoulder somewhere. When I'm talking to someone or reacting to the events around me, I don't turn the camera off because I'm afraid of missing something, but I didn't remember those moments.
When a child dies, I just slide down the wall and sit on the floor. These human moments were a great discovery [while watching the footage]. This can only be shown in a film.
There are many scenes of death, pain, and despair in the film. Were there any doubts or hesitations about publishing certain moments from Mariupol?
— Actually, if you watch the film carefully, there is not much blood. It can be difficult to watch because we are emotionally experiencing it together with the characters. The Mariupol residents we see are real people who are losing their loved ones, children, homes, and city. It is hard.
But in each moment, there is someone who supports them, so it is also hope and strength. The main principle during editing is to treat people with respect.
What was the reaction of the locals when you filmed them in difficult situations?
— The only tendency I saw in Mariupol was that the further the city was destroyed, the more people approached us and asked us to film everything around them. They wanted us to film them so that their relatives could find them. They said we had to show the world what the Russians were doing to the city.
There were those who did not want us to film them. They are not in the film. It was important for me to show all the reactions because there was confusion and panic. This is part of the effect Russia was trying to achieve when it not only encircled the city but also cut it off from the world in the information space. This led to people believing everything they heard. The topic of information warfare is one of the most important in the film.
You have filmed many wars, including in Ukraine since 2014, but what kind of war did you see in Mariupol?
— One that I have never seen in Afghanistan, Iraq, Syria, Karabakh, or Ukraine [before the full-scale invasion]. I have never seen such an intensity of fighting, killing, or war crimes. I have never seen such a level of suffering.
This may not be the worst war in the history of mankind, but it is definitely the worst and most brutal I have ever seen.
Could a film with so much evidence of Russian war crimes be used in the International Criminal Court?
— Video and photographic documentation is important for the investigation of war crimes, but it is not the only thing that is needed.
The investigation of Russian crimes in Bucha became possible when the city was de-occupied, and prosecutors had access to the bodies. At the moment, international prosecutors cannot go to Mariupol. Every day more and more evidence of the crimes is being destroyed.
The more time passes, the harder it will be to investigate these cases. The first step in international investigations is the de-occupation of Mariupol.
You made a documentary about Mariupol. How do you feel about the fact that people are starting to make fiction films on war themes? How important is it now to document and show this phase of the war?
— Every story has its own language to be told. There are stories that can be told through literature and those that can be told through documentaries or fiction films.
There are stories about the war that can only be told in fiction films. They are necessary. I also work not only with a documentary but also with a fiction perspective.
Do foreigners understand that this is not a fiction film but a documentation of war crimes? Have you encountered foreigners not believing what they saw on the screen? And are there scenes that foreigners don't understand?
— Precisely because it is a film, there is enough context. They see a live camera that sometimes records and sometimes doesn't. They see different human reactions to events. This adds credibility to the material.
Is the film's message different for Ukrainians and foreigners?
— No, it's not. I can't say that I put in certain messages. The tone of the story is not preachy or moralising. All I'm doing is asking questions I've wanted to ask for a long time.
There are no messages in the film, but there is the topic of the tragedy of losing a child, the topic of how journalism works in the context of an information war, and the topic of collective trauma. Each viewer takes away something different.
What would you like to say to the audience before watching the film?
— I don't want to make any appeals because this is not a moralistic film. I don't set myself the task of teaching anyone. My task is to keep working and tell about what happened.
I want this film to give hope because of how fantastic Ukrainians are. Despite the tragedy that has happened to us, we are not just surviving, we are continuing to fight.
This is a memorial to those who did not survive in Mariupol. This is my way of thanking them and saying that they will not be forgotten.