(Not) Putin's war? How Russian volunteers supply the frontline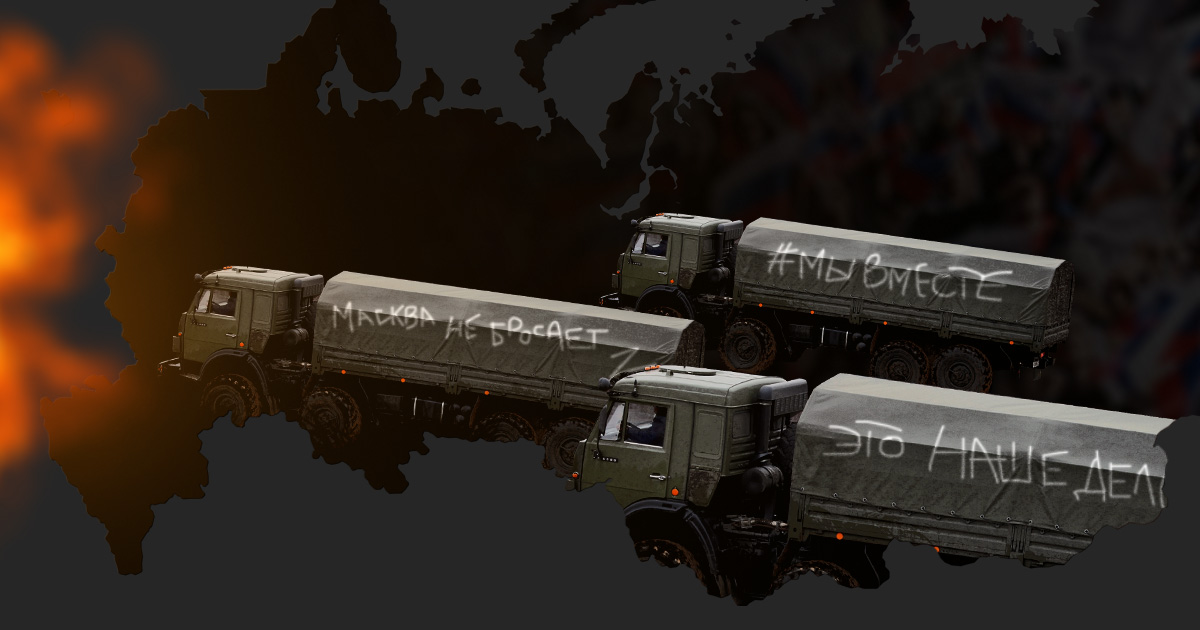 Defeat begins with underestimating the enemy and its resources. In the media and public imagination, Russia is often portrayed as a significant military machine that pours billions of dollars into the war, produces its weapons, buys them from Iran or North Korea, and does not spare its people, sending them to the front. However, this machine does not exist in isolation from society - it receives approval and assistance from it.
Ukrainians used to laugh at memes about poorly dressed and underfed Russian soldiers. But when the state fails to cope, society steps in. In December 2022, at the MyVmeste (We Are Together) International Civil Participation campaign forum, Vladimir Putin said Russian volunteers had exceeded 21 million, or 15% of the Russian population. Russians collect clothes, medicine, food, heaters, batteries, drones, and shovels.
Svidomi journalist shows how Russian society is involved in the war against Ukraine and why its contribution should not be ignored or underestimated.
"We don't abandon our kind"
Problems with the supply of Russian troops emerged at the beginning of the full-scale war when the Russians looted the occupied settlements. In September 2022, Vladimir Putin even dismissed Deputy Defence Minister Dmitry Bulgakov, who had been in charge of logistics for the Russian army since 2010.
Since the beginning of the full-scale invasion, aid has been sent to the front, mainly by Russian military families. They collected parcels of clothes, food, medicine and hygiene products for their husbands and sons.
Svetlana, a resident of Moscow, founded one of these organisations, Moskva Svoikh Ne Brosaet! (Moscow Will Not Abandon Its Kind), after her son volunteered as a soldier. Svetlana moved to Moscow at the age of 20 from the Far North, which shares a time zone with North and South Korea, graduated from medical school and started working as an endoscopist, first in a military hospital and then in a city clinic. She got married, raised two sons, and is now raising a baby girl she adopted.
Svitlana's son, Kirill, fought in the Kharkiv region as an infantry fighting vehicle (IFV) gunner. Kirill's brigade was sent to the rear in September 2022 when the Ukrainian military liberated the territories near Balakliia. Caring parents gathered clothes, shoes, water, food and medicine for their son so that he could return to the front line.
Svitlana's friends also joined the volunteering. Together, they created a group on Telegram with almost four thousand members. They started supplying necessities, dugout insulation, heaters, generators, construction tools, shovels, and tactical medicine.
"My heart was in pain: how are they (the military - ed.) there? Are they warm? Do they have food? Each soldier there is our kin. Sometimes you drive past a checkpoint and stop: "Boys, take at least a chocolate bar!" Their faces are covered with masks, but you can see the smile in their eyes," the organisation's "volunteers" say.
Kiril was killed at the front, but his mother still supplies Russian military units. As a medic, she equips first aid kits and tactical backpacks. In addition, Moscow Will Not Abandon Its Kind supports four hospitals in the frontline territories temporarily occupied by Russia, with "volunteers" delivering Surgical lighting with uninterruptible power supplies, ultrasound scanners and a head-mounted microscope.
"When I go there [to the frontline], I feel thrilled," Svetlana said in an interview with a Russian media outlet.
The team also includes women weaving camouflage nets, sewing stretchers, sleeping bags, raincoats and balaclavas. The Russians make trench candles with their families and prepare food for the frontline.
According to official estimates alone, last year, Russians collected 12,500 tonnes of humanitarian aid for the Russian military and their families. The "benefactors" also raised at least 4.4 billion rubles to purchase stuff for the frontline.
In addition to helping the military, organisations support the wounded. The largest fund of its kind, We Don't Abandon Our Kind, purchases equipment and medical supplies for hospitals affiliated with the Russian Ministry of Defence.
Similarly to Svetlana's case, groups of like-minded people gathered around Russian soldiers' families. "Volunteering" has become more widespread, goods for the front line are being produced in large quantities, and "aid to the front" is now more valuable and effective: medical equipment, diesel generators, satellite dishes, quadcopters.
Almost all of Russia has united to provide supplies for the military fighting against Ukraine. In the far eastern city of Khabarovsk, there are 104 "humanitarian aid reception points". "Volunteers" of the "Krasnyi Oboz" from Tomsk travel four thousand kilometres to the east of Ukraine to personally thank "their defenders". In Tomsk, they "conduct National-patriotic education classes", explaining to children "why the special operation began and what is happening" (Russian authorities and propagandists call the full-scale invasion a "special military operation" - ed.).
Similarly, "benefactors" from Novosibirsk - about 3,500 kilometres away - travel to Ukraine on their own, buying off-road vehicles and loading them with optics, equipment, thermal imagers and radios.
The so-called "volunteering" is being promoted in Russia to involve the civilian population in the war further. In Irkutsk, the media project Eto Nashe Delo! (It's Our Business) started to tell the story of "ordinary people who could not stand aside when the country needed help and support".
According to the project's website, the volunteer movement has united hundreds of Russian housewives, pensioners, managers, administrative workers, entrepreneurs, students and schoolchildren who make camouflage nets, sew equipment, make camp stoves, collect humanitarian aid and personally deliver it to the military on the front line.
For example, Tatyana Kozodoy is a pensioner from Taishet, located just above Mongolia. She is a finance professional and a creative person at the same time. She likes to draw and do handicrafts: knit, embroider, sew. She now puts her hobbies to work helping the Russian military by knitting socks and holding masterclasses on weaving camouflage nets.
"It's not difficult, and it's comparable to macramé. I learnt the technology of weaving thanks to video tutorials. Now, we knit with my husband and have also involved our friends. A 3×6-metre net can be knitted in a week and a half," the woman tells the Russian media.
Her husband, by the way, wanted to join the army as a volunteer, but he was not accepted because of his age and health. So he helps Tatiana weave the nets.
People from abroad also tried to help the army. Vladimir Shilov worked as a trucker for a Finnish company, and in his spare time, as a singer, he gave concerts in the Pskov region. After February 24, he actively supported the Russian invasion of Ukraine, and in May 2022, he organised a fundraiser among his fans to buy quadcopters for the Russian army. The man decided to buy them abroad.
Estonian border guards detained the trucker on May 28, 2022, based on an article of the Estonian Criminal Code on supporting Russian aggression.
The Russian spent four months in prison. According to his posts on Vkontakte, he lives and continues his concert activities in the Pskov region of Russia. The Estonian police handed over the confiscated drones to the Ukrainian army.
Ukrainian volunteering and Russian drones
In May 2023, the Russian publication Military Observer published an analysis on drones in the Russian army. Russian journalists claimed that while the Russian Armed Forces lack drones, "Ukrainians track every step and use their copters to nullify all attempts to move and regroup".
Russians complain that the state has not been able to launch mass production of drones of its design in a year, and the problem of UAVs has been partially solved only at the expense of Russian citizens.
Russian civilians have indeed started assembling drones themselves. For example, a similar workshop was organised by "volunteers" in the Leningrad region. They work in their spare time, ordering the main parts from Asia while printing some details on a 3D printer.
"Here in Luga (the name of the town - ed.), if you go to any classroom at school, someone's father or mother is a member of the Special Military Operation. How could Luga be left out? No way," Evgeny Golub, co-organiser of the project We Don't Abandon Our Kind, tells Russian media.
In Tambov, they assembled quadcopters at a bakery next to the baking process. They decided to produce FPV drones with a minimum of electronics and manual control. According to the company, the facilities deployed at the plant allow it to assemble up to 200 drones per month.
At the same time, Russians consider Ukrainian voluntary work and hold it up as an example. Military Observer writes: "The problem is that there are also ordinary citizens on the other side (in Ukraine - ed.) who help their army! And they seem to be doing it much more effectively than we are. After all, Ukrainian copters are hovering over Russian positions around the clock, not vice versa. The Ukrainian segment of the Internet is full of footage of attacks on Russian equipment and Russian soldiers."
Russian users monitor the actions of Ukrainians and look up to them. The same FPV drones produced by the Tambov bakery were the first to be used by the Ukrainian military.
This does not mean we should look up to the Russians and their developments. However, the factor of the Russian civilian population, its involvement in the war and its responsibility for war crimes on the territory of Ukraine should not be discounted.