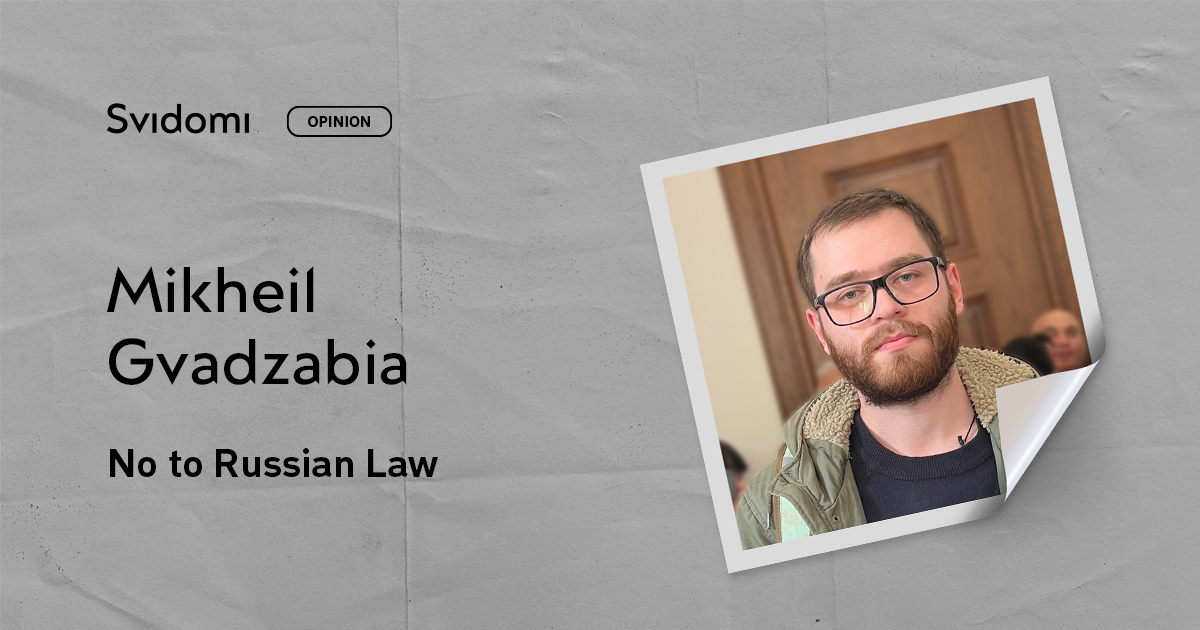 We resisted and won this time. Georgia's ruling party wanted to pass a Russian-style law on "foreign agents" to suppress fundamental freedoms. Mikheil Gvadzabia, a reporter for Tbilisi online media outlet Netgazeti, wrote an opinion about protests in Georgia and what will happen next.
Mikheil Gvadzabia is a Georgian journalist who has been working with Netgazeti.ge since 2017. Throughout his career, he has been reporting on a wide range of social and political issues in Georgia and beyond.
He was one of the journalists who were assaulted by law enforcement while covering the Tbilisi March rallies.
"I would like to tell you that this bill has done its job... First, everyone admitted that being an agent is embarrassing, no matter whose agent you are", – Irakli Kobakhidze, the leader of Georgia's ruling party, said after his team was forced to withdraw the bill on "agents of foreign influence" amid public protests.
Shortly before, the same politician and his colleagues have been trying to convince us that "agent" – a term directly associated with "espionage" for many people in Georgia, especially after 70 years-long Soviet past – does not necessarily mean something bad.
According to them, the only purpose of the bill, which was intended to target foreign-funded nongovernmental and media organizations, was transparency. My colleagues and I had enough reasons not to believe it.
In recent years, we've been witnessing increasingly aggressive efforts of the ruling party and its affiliates to discredit critical NGOs and media. After Russia's full-scale war against Ukraine, the ruling party represented those organizations, along with the opposition politicians, some European MPs, and some US senators, as a part of a "global war party" that intends to destabilize Georgia and drag it into the war.
In 2022, when numerous associates of Georgian Dream filled pro-government outlets with the calls to punish "agents", "traitors" and "spies" by law, it was easily predictable that something dangerous was going to happen.
Those predictions were proved in November, when People's Power party, whose members left Georgian Dream but remained in the parliamentary majority, stated that they were going to initiate a draft law to strictly regulate foreign funding of NGOs – in their words, agents of the USA.
It was in response to the remarks of US senator Jeanne Shaheen, who talked about considerable US aid to Georgia, but also mentioned "tremendous backsliding" in the country and argued that maybe the US should tie some of its aid to behavior on the part of Georgia.
People's Power actually fulfilled its promise in February by initiating the draft law about "agents of foreign influence".
As some say, members of that faction formally left the ruling party just to make harsher anti-Western statements, which Georgian Dream does not want to be directly associated with. But, in this case, the ruling party did not show any signs of hesitation: they quickly voiced support for the bill, claiming that it was neither discriminatory nor Russian-style.
Despite those claims, the actual goal of that bill was clear to us and it had nothing to do with transparency since the organizations funded by western donors are transparent enough.
We've already watched this film in Putin's Russia: discrediting, weakening, and destroying civil society and media by the same law which was passed in 2012, then expanded and targeted everyone from organizations to individuals who criticize the Kremlin.
Even the justifications of the Georgian Dream' officials by which they've been trying to sell their bill were similar to what Putin said in his public speeches to justify Russian foreign agent law.
We realized that our profession, society, and the country as a whole were threatened by Russian-style authoritarian law. 400 organizations voiced their criticism towards the bill and dozens of media outlets publicly refused to register as "agents" if the law was passed. We had to fight as much as we could.
First days were full of uncertainty: what would be the public reaction? Would we manage to properly inform the audience about the grave threats of that bill? Well, let's imagine that this law was passed and media&NGOs refused to register as agents. Would the state be able to punish those organizations altogether?
But one thing was clear: that bill was Russian and we had to do everything to avoid a catastrophic scenario. Who would be able to protect us if we ourselves fell silent and sank into despair?
The first thing our outlets "Netgazeti.ge" and "Batumelebi.ge" did was put small text under each article and news story on our websites, warning the readers about the Russian-style bill and explaining why it was dangerous.
The first protest happened on February 20: it was a small sit-in inside the parliament, spontaneously organized by journalists on the day when the discussion of the bill began. "No to Russian law!" — we were chanting, holding up posters with protest messages. It was the rare moment when journalists, who normally cover the events instead of participating in them, found themselves as pioneers of the process which would soon turn into a large-scale protest movement.
Day by day, international pressure on the government was growing. Against the backdrop of Georgian Dream's claims that the bill did not contradict EU principles, the EU officials openly condemned the bill as incompatible with 12-point recommendations that Georgia must meet in order to receive candidate status.
The European future is a red line for a large part of Georgian society, which has experienced Russia's aggressive policy many times throughout the history, and 20% of its motherland is still occupied by Moscow. Two things pushed citizens to come to the streets with impressive numbers during the last year: demand for European integration and support of Ukraine against Russian aggression.
Both series of protests were characterized by dissatisfaction with the Georgian government: in the case of Ukraine, Georgia's official support of pro-Ukrainian resolutions and some supportive statements are accompanied by the government's refusal to openly join the sanctions against Russia, as well as remarks about "Russia's upper hand" in Ukraine and dividing Georgians fighting in Ukraine into "fighters for ideas" and "fighters for money".
On the other hand, the ruling party says that they don't spare efforts for European integration, however, they downplay the importance of the EU membership candidate status, referring to it as a "worthless status" in response to criticism from MEPs due to the imprisoned ex-president Saakashvili.
So, many Georgians expressed their negative attitude about those stances, but it was before. For almost the last six months, large protests have mostly disappeared from the streets. Political life has become even more faded, as 61% of the people think that no political party represents their interests, according to a February poll by NDI.
And now, when the Russian-style bill was going to pass, many questioned how sensitive the population would be this time: how many people would conclude that not only a bunch of organizations — hated and discriminated against by the ruling party — but fundamental freedoms, everyday services provided by foreign-funded NGOs, high-quality education, and the European perspective of Georgia were threatened?
As we saw then, many concluded that way. Journalists and NGO representatives were joined by a growing number of protesters in the streets. Respected public figures, including scientists, writers, artists, and sports personalities individually condemned the bill, and groups of professors, teachers, diplomats, and ex-members of Georgian Dream as well as sports clubs and the notorious Georgian National Ballet published the statements against the draft law.
There was a specific moment when I felt that something big was going to happen. It was March 7 when Georgian Dream suddenly changed the schedule of the plenary agenda and announced that the Parliament would start discussing the draft law two days earlier than it was planned. Citizens opposed to the draft law, who had dispersed from the area surrounding the parliament moments before, began to gather again. They were loud, angry, and humiliated.
For the next two days, we saw dramatic scenes in Tbilisi: tens of thousands of people came to the streets with "No to Russian law" chants and many of them refused to leave and clashed with police when the latter used water cannons, tear gas, and pepper spray to disperse the demonstrators.
Social media users praised Gen Z, who were widely represented at the protests along with others, including citizens from my parents' and grandparents' generations. A girl and a woman, waving Georgian and EU flags while blasted by a water cannon, became symbols of the protest.
On March 9, When Georgian Dream announced that it was withdrawing a draft law, the smell of tear gas could still be felt in the center of Tbilisi. The facade of the parliament was covered with protest graffiti and some of its windows were smashed. Upturned benches, burnt trash bins and some damaged cars could be seen on the roads. Many citizens did not leave the street till the date of voting down the bill was officially announced and some of them celebrated its withdrawal with another demonstration in the backstreet of the parliament.
The Georgian Dream gave up for this time, demonstrations stopped and the opposition parties are now focusing on pressuring the government to comply with EU recommendations. On the other hand, the ruling party is stubborn and even harsher in its messages.
In addition to talking about a "machine of lies" that "negatively presented the bill", the ruling elite attacked its critics with the terms such as "Satanists", "LGBT propaganda", and "Liberal Fascism", along with "Enemies of the church" which they had been actively using even before.
What's next? Difficult to say. In the same statement announcing the recall of the draft law, Georgian Dream said that it is planning meetings with the people in order to explain the benefits of the bill. What are they going to talk about in these meetings? About a canceled bill that will never be initiated again? It's hard to say.
In the meantime, we continue to fulfill our duty: we closely observe any direct or indirect manifestations of Russian propaganda in Georgian reality and carefully monitor what the Georgian authorities do to fulfill the 12 recommendations of the European Union in order to obtain such an important status for the country.
My life, as well as that of my colleagues, slowly returns to normal. Our protest papers are now souvenirs, symbolizing a small victory. But if we see the necessity, we will hold them up again.