"I don't know why my husband was detained": how Russia illegally detains Ukrainians.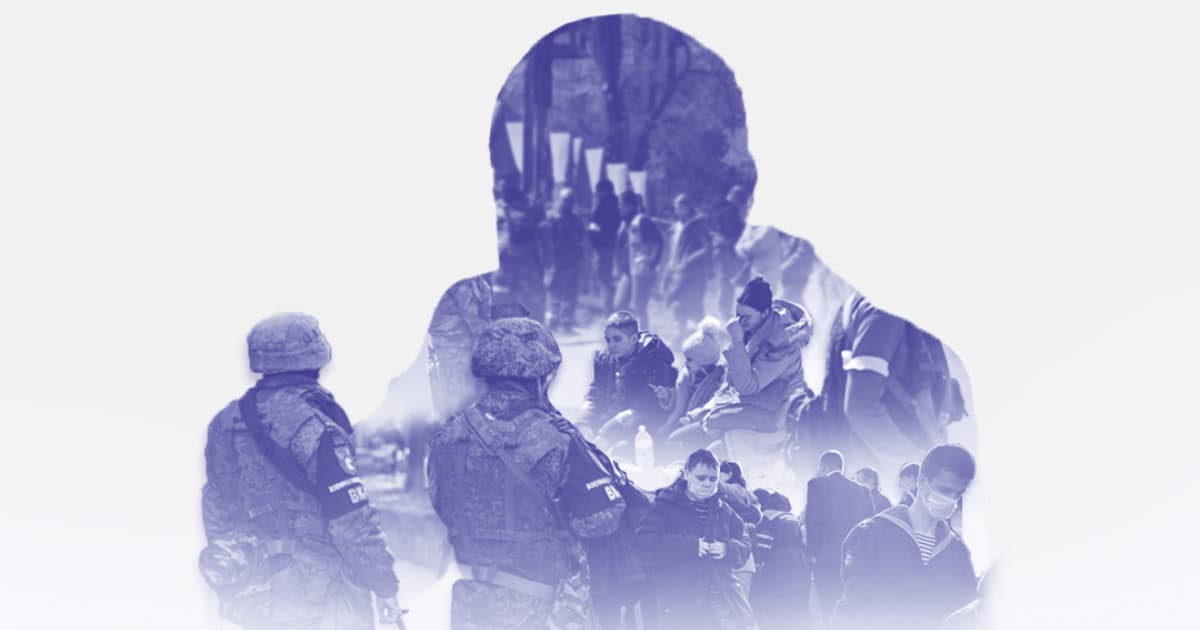 Civilians are the most vulnerable to the threat of imprisonment: they are detained and imprisoned illegally, information from the temporarily occupied territories is limited, and there is no mechanism for exchanging the same as military for military.
Over 20,000 relatives of civilian hostages have officially appealed to the Ukrainian Ombudsman.
"Even at the beginning of the full-scale invasion, local authorities and citizens got organised and patrolled like vigilantes to prevent looting. When the mayor, Ivan Fedorov, was kidnapped and the temporary occupation authorities seized the administrative buildings, these men were beaten. After that, people began to disappear quietly - they were abducted," said a resident of Melitopol for the Voices of Occupation particular project.
Melitopol is one of the largest cities in the Zaporizhzhia region, under occupation since 24 February 2022. Using the example of this city and the story of Yaroslav Zhuk, we explain how Russia illegally abducts and imprisons Ukrainians and where to go if this happens to your family.
A few months ago, the mayor of Melitopol reported that almost 1,000 people had been abducted from the city since the beginning of the temporary occupation. In addition, at least 3,500 people from Melitopol prisons were illegally transferred to the temporarily occupied Crimea.
"The Gauleiters issued a decree on the legalisation of 28 prisons in the temporarily occupied territories, three of which are in the temporarily occupied territory of the Zaporizhzhia region. Earlier, we said there were at least five torture chambers in Melitopol alone, but the Russians have already 'legalised' some of them," said Ivan Fedorov.
In response to Svidomi's request, the Melitopol City Council reported that as of 1 April, 97 civilians from the Melitopol district, Zaporizhzhia region, were held in Russian captivity.
Nine people are being held in the Russian Detention Centre in Lefortovo, two in Simferopol Detention Centre No. 2, one in a colony in Vladikavkaz, and eight people were taken to the territory of the illegal armed group 'DPR'. In addition, Russians are forcibly using another nineteen people to build fortifications.
The story of Yaroslav Zhuk
Previously, Olena Shapurova was the director of Melitopol Industrial and Economic College. She was suspected of illegally spending money from a charity fund, paying money to employees who did not work at the college, and renting out premises without contracts. As a result, she was suspended in 2020.
In March 2022, Shapurova voluntarily became the so-called "head" of the temporary occupation "Melitopol Department of Education" and demanded that teachers organise teaching according to the Russian curriculum.
According to the Regional News Agency of Melitopol, the collaborator closed the college and turned its building into a department "where schoolchildren were brought to take fake tests, and the bribe-taker was raking it in".
On June 17, an explosion occurred near the Melitopol Industrial and Economic College. According to unofficial reports, explosives detonated in the bushes near the college that evening.
One of the witnesses reported that the occupation forces blocked the passage of all cars. They stopped a VAZ-2101 car not far from where the explosion took place. Yaroslav Zhuk was inside - he was taken out, made to kneel and detained.
On the same day, the military visited the man's home.
"It was a regular day. We had a private house, and we were doing the housework because we had stopped going to work at that time. My husband went away on business, and less than an hour later, three soldiers came to our house. First, they asked where Yaroslav was, looked around the house and the workshop, and then confessed that they had detained my husband. When asked where, how and why, they said that he had done something terrible and was being held for a long time," Yaroslav's wife Maryna Zhuk told Svidomi.
According to locals, the military searched homes at night and the next day, taking "everyone in a row, even the church pastor, Valentyn Zhuravlov, who was holding a prayer service on Peremoha Square".
Yaroslav Zhuk was engaged in jewellery making, welding and manufacturing spare parts for machinery. Maryna worked as a concertmaster at the local Palace of Culture. The couple have a young son. Maryna and her child left the temporarily occupied territories a month after Yaroslav was detained.
On July 12, the so-called "head of the 'We Are Together with Russia' movement" in the temporarily occupied part of the Zaporizhzhia region, Vladimir Rogov, published a post on his Telegram channel calling Zhuk "the perpetrator of the June 17 assassination attempt" on collaborator Olena Shapurova.
Rogov also posted a video of Zhuk's alleged 'confession'. In the video, Yaroslav stutters, and the video itself is montaged from fragments. The man says that when he was driving by, he allegedly threw an explosive device towards the college building on the instructions of the SSU.
"We did not participate in pro-Ukrainian rallies, although our relatives and neighbours knew Yaroslav's [pro-Ukrainian] position. However, even many who opposed the occupation at the time were not harmed. Yaroslav was not in the territorial defence. He tried to help people and do what he could: take things somewhere, buy things for someone. I do not know why my husband was detained," says Marina Zhuk.
After the woman and her son left, the occupation military visited their home. Since no one was home, they went to Yaroslav's parents, arranged a meeting with their son and informed them that the man would be transferred to a pre-trial detention centre in the temporarily occupied Simferopol, and the trial would take place in Rostov-on-Don.
On August 11, 2022, the so-called Kyiv District Court of Simferopol ruled that Zhuk was suspected of allegedly "committing an act of international terrorism". As a result, the Melitopol resident faces detention for 10 to 20 years or life imprisonment.
Through Russian lawyer Aleksei Ladin, who defended illegally convicted persons in the temporarily occupied Crimea, Yaroslav Zhuk submitted a statement to the Investigative Committee of the Russian Federation describing his detention, torture and coercion of testimony, in particular, for the video with his 'confession'.
The man reports that he was kept in the basement with a bag over his head for about a week after his arrest. During this period, he was not fed — he was given one glass of water a day.
"Almost every half hour, they came and tortured me: they electrocuted me, applied wires to my legs, arms, genitals, earlobes and breast nipples, beat me with a blunt object all over my body, set my feet on fire with a gas burner, and moralised on me," Yaroslav described.
Since the man was regularly beaten on the head, he partially lost his hearing. Through torture, Zhuk was forced to sign a so-called "confession", and when the visible beatings had subsided, he was forced to record it on video. In the letter, Yaroslav denied any involvement in the explosion.
At the end of December, lawyer Nikalai Polozov published a letter from Nariman Dzhelial, a Crimean Tatar activist and deputy head of the Mejlis of the Crimean Tatar people, about Zhuk.
"The other day, returning from court to the pre-trial detention centre, I met our Melitopol resident Yaroslav Zhuk. After the first few words, we immediately recognised each other. Yaroslav looks good. However, I immediately noticed he had poor hearing. His partial hearing loss is the result of inhuman torture.
In addition to regular employees, security is provided by special forces soldiers who still abuse the guys.
Yaroslav didn't have time and didn't want to give details about the situation, but his tone of voice made it clear (and I saw and heard something myself) that it was nothing good. The boys are still subjected to physical abuse and moral humiliation.
Yaroslav said he had once met Appaz Kurtamet [a Crimean Tatar, a resident of Novooleksiivka, Kherson region, detained on the administrative border with the temporarily occupied Crimea on July 23, 2022. Kurtamet was sentenced to seven years in a maximum-security colony with the first year in prison: he is accused of financing the Ukrainian volunteer battalion 'Crimea' - ed.] who was being held next to him. He doesn't know how many of our people are there, but he thinks there are about a hundred.
Despite the torture and abuse, Yaroslav radiates hope, kindness, and faith in his release and our victory. As do all political prisoners. Know that our girls and boys are holding on. They are supporting and waiting for the support of our country," Dzhelial wrote.
On April 8, Russian propaganda media reported that Zhuk's case had been submitted to the Southern District Military Court in Rostov-on-Don. However, the date of the hearing has not yet been set.
The story of Yaroslav Zhuk is one of many about civilian hostages illegally held by Russia. The Media Initiative for Human Rights presented an interactive map of places where Russia has held or is still holding civilian hostages and prisoners of war.
As of the beginning of April, MIHR identified 948 civilian hostages held in the temporarily occupied territories and Russia. However, human rights activists note that the total number could be 5-7 times higher.
The Ministry for Reintegration of the Temporarily Occupied Territories did not respond to Svidomi's request.
The Office of the Verkhovna Rada Commissioner for Human Rights replied that they did not provide information on the number of people held by Russia.
Officially, more than 20,000 relatives of civilian hostages have appealed to the Ukrainian Ombudsman.
"The number is higher. As long as part of the Kherson region, Zaporizhzhia region, the entire Donetsk and Luhansk regions and our entire Crimea are under occupation; it is clear that relatives there do not contact us. Even if they have the technical capability, they are afraid," Dmytro Lubinets told Ukrainska Pravda.
Civilian hostages are often accused of committing "acts of international terrorism", "high treason", and "opposition to a special military operation". Russia does not provide information about the detained civilians to their families, Ukraine or international organisations. They are exchanged with no apparent mechanism.
"Some of them are dressed in military uniforms and exchanged as if they were prisoners of war. Other civilians are exchanged together with the military. Some are released without explanation, as well as detained," the MIHR human rights defenders report.