'He and his female neighbour were chained to a battery': during the occupation of the Kyiv region, Russians abducted a civilian who has been held in Russia for almost a year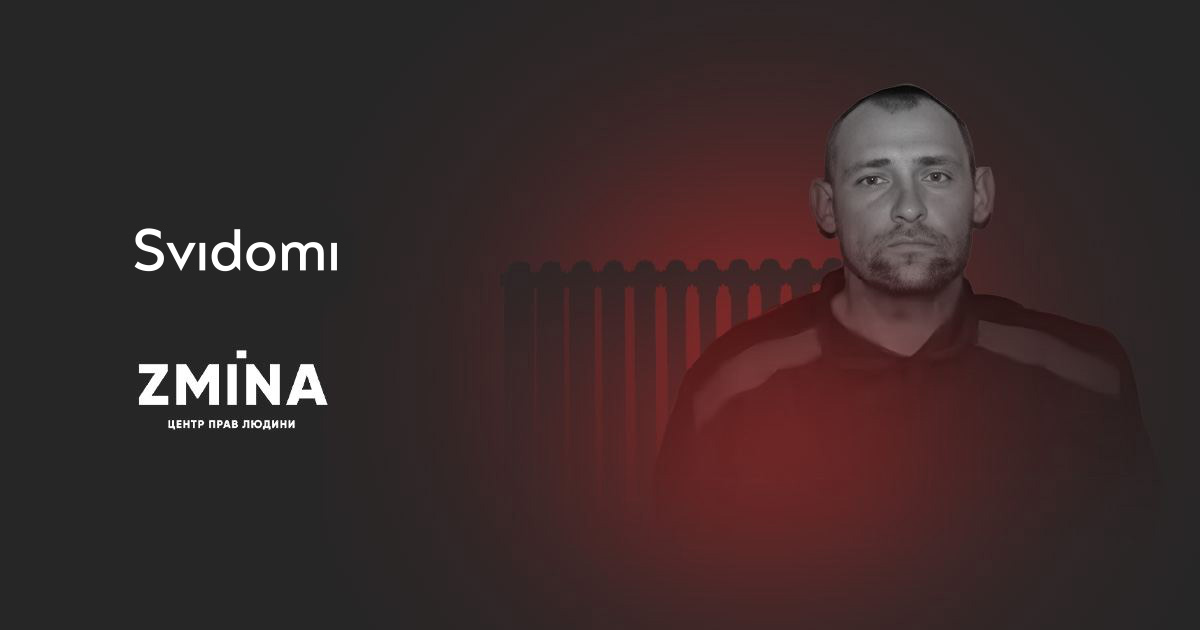 In early March 2022, when Russian troops captured Vorzel, the Russians imprisoned Volodymyr Berezhnov in his home with his female neighbour. He was later released and went to Kyiv, but returned on 19 March to pick up his family from near Hostomel. After that, communication with him was cut off. Then, about six months later, the family found out that Berezhnov had been abducted by Russians and taken to Russia.
Svidomi, in cooperation with the Human Rights Centre ZMINA, tells the story of Volodymyr Berezhnov.
"My father lived in Vorzel, and I lived in Kyiv. On March 3, he was captured for the first time in his house, and he was there with his female neighbour... When we met in Kyiv, I glanced at his hands and saw they were torn to the flesh. He told me he and his female neighbour had been chained to a radiator and tied up there. I guess some Russian soldiers were more tolerant because they allowed him to eat. My dad told me that there had been tanks near his house. We had no contact with him for a week because his phone was dead. Later, my dad said he managed to charge his phone from a tank. I was in shock," says Oleksandra, Volodymyr Berezhnov's daughter.
In her words, on March 8, the first evacuation buses started leaving Vorzel. The girl begged her father to leave. Finally, she says Volodymyr managed to do so - on 9 March, he boarded a bus bound for Kyiv.
On March 10, Volodymyr met his daughter, and the next day he put her on a train to Poland. The girl recalls that the last time she talked to her father on Viber was on March 18, and after that, she lost contact.
"On March 19, I panicked because my dad didn't answer. And I realised what had happened: he had gone to rescue his wife and children near Hostomel. When we met in Kyiv, I heard their conversation. She asked him to come and get them," Oleksandra recalls.
A few days after the disappearance, Berezhnov's family received a scanner photo from the road cameras near Bucha, which shows Volodymyr driving along the road towards Hostomel.
"Then the worst started: we didn't know where he was, he didn't get in touch, his wife did. She said: he didn't come to us, we don't know anything, she was also in shock," Oleksandra adds.
Oleksandra immediately started looking for Volodymyr: she contacted the Red Cross, the National Information Bureau, the Coordination Centre, and the Security Service of Ukraine and wrote to volunteers.
"I wrote his name and surname in chats on Telegram, and Facebook, where people post photos and looked for him. They searched everywhere they could; I can't even list the places," says Oleksandra.
The girl notes that she found out about her father's whereabouts when she called the National Information Bureau for Prisoners of War hotline in August. They said that the Russian side confirmed him as a prisoner of war and noted that Berezhnov was on the territory of Russia.
The man even wrote a letter from Russian captivity and sent it to Ukraine. He wrote the letter to his mother in April, but she received it only in September. According to Oleksandra, it is the Russian side that sends letters in this way.
The letter Volodymyr's mother received contained only a few words: "Alive and well".
"We have no information about his whereabouts. Allegedly in Russia, but we don't know exactly where. The Red Cross knows his whereabouts; I called them and asked, and they said they could not provide information about his health and whereabouts... If previously I received calls saying that he was on the exchange list, now they say there are no such lists," says Volodymyr's daughter.
In early February, she found photos of her father and several other men who the Russian military had abducted on a Russian telegram channel called 'Identify a Ukrainian by a Forelock'.
The post states that the people in the photos are fire marksmen, saboteurs and bombers who voluntarily surrendered to the 'allied forces', i.e. the Russians.
According to Oleksandra, the photo shows her father's broken nose.
The girl says that with the relatives of other civilians abducted by the Russians, she participates in actions to draw attention to the problem of releasing Ukrainian prisoners. But so far, their efforts have not yielded results.