"Be careful with your New Year's wishes": the story of the deputy director of the Harant Lyceum in Lysychansk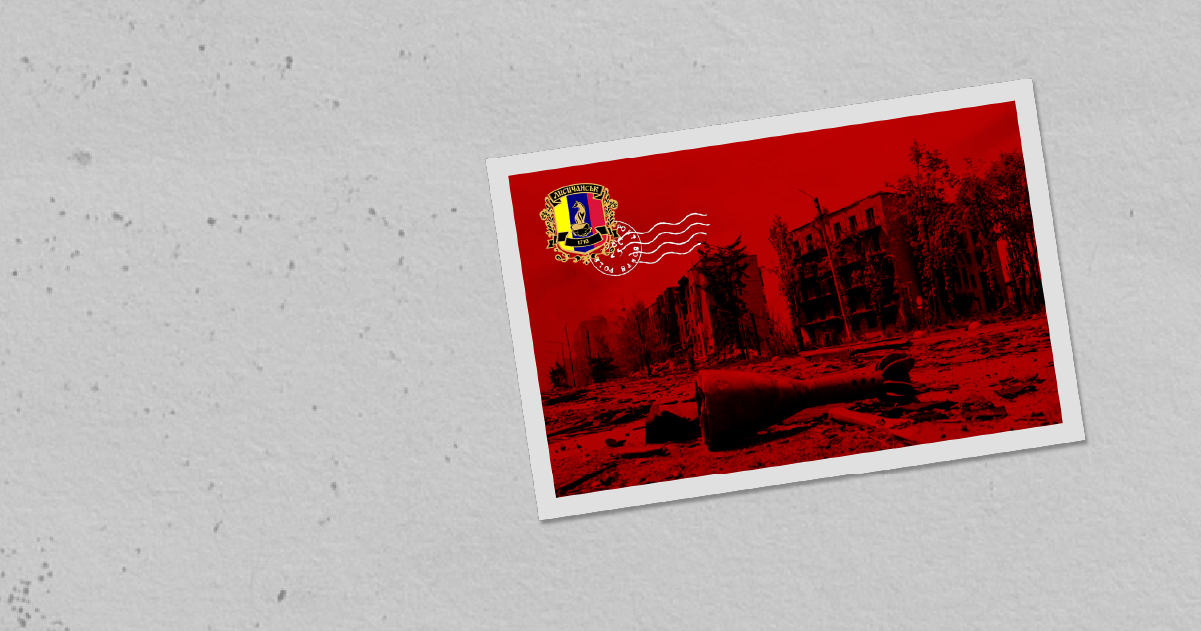 Kateryna Yelisieieva lived with her family in Lysychansk, Luhansk region. In the autumn of 2021, she married an internally displaced person from Pervomaisk. She worked at school for 15 years: first as a primary school teacher, then as a deputy director at the Harant Lyceum in Lysychansk. She taught computer science, labour training and technology.
When Kateryna was a child, the worst thing for her mother was the war.
"My mother used to say: "Everything is fine, as long as there is no war," Kateryna recalls. "It was something far away for me, and why would it be? I also remember an inscription on the basement door, "shelter", and I asked what a shelter was. And my mother answered me: "God forbid you should know."
Kateryna understood her mother only in 2014. Then the woman and her four-year-old son moved to Svatove. Her parents stayed in Lysychansk. They experienced a lot: they hid in the basement from shelling and were deprived of water for four days because there were no supplies. After the experience, her parents equipped a bomb shelter in their house.
"They have a bomb shelter in their house. It's been there since this house was built," Kateryna says, "and it's fortified. And since 2014, my mother has renovated it. She was constantly cleaning it, preventing the neighbours from cluttering it up. She and my father also made a huge supply of firewood and water. She bought a pack of water with every pension. In addition, she and my dad brought down a small sofa, a table, some chairs, a mattress and some warm clothes."
On February 24, in the morning, Kateryna received a phone call from her mother inviting her to come to their house. Kateryna lived in the same place as her sister, so they quickly packed up and left.
"I thought it would pass so quickly and everything would be fine one day and we would be back," Kateryna describes the situation, "I came home only once to pack before leaving, as I now realise, for a long time.
For the next eight days, until she left on March 4, Kateryna stayed with her mother. They didn't stay in the basement all the time; they went home at night because it was cold. From the first day of the war, her mother's basement became a shelter for many people, even people with kids.
"We knew that a family from the neighbouring house stayed in the basement overnight - a mum, a girl with two small children: one was about five, the other was two years old. And we asked: "Are you going to stay here overnight?" And she replied: "It takes me so long to go home. I'll probably stay here". I don't know who this woman is. When it was freezing, I insisted that she come up to our house because to spend the night in the basement was to get sick. My first graduate student was also in the basement with us, with a one-month-old baby, and they also spent nights in the basement," Kateryna says.
Day by day, the city was getting more and more dangerous. Then, there were the first hits near her parents' house. When the city authorities announced the evacuation, Kateryna and her family decided to leave. Her father refused to leave, while her mother and sister took a train to the Poltava region. Kateryna, her son and her husband, and his daughter from his first marriage left by car.
"We took few things because the car was small, we were afraid we wouldn't fit. So I left my cat with my dad. My dad eventually left and couldn't take the cat with him. Hopefully, I'll come back for him someday, and he's alive," she says.
The Harant Lyceum works remotely and has retained almost all its students, teaching staff and even some traditions. For example, the lyceum used to play "Secret Angel", a game where teachers gave gifts to colleagues with whom they did not communicate much at work. The ward for the "angel" was chosen randomly, and during the week, they secretly planted or handed over trinkets. Then everyone got together and shared their impressions. Nowadays, the game is played remotely via email.
"Life goes on, and you must live it here and now. I don't want to go abroad at all, maybe it's better there, but my place is where my family is, where my country is. I realised that I am comfortable in the place where I am. My son says he does not want to return to Lysychansk. My husband says he will definitely not return there because it is difficult to have any plans and live near Russia. And not just to live but to be of use to someone. Even now, I work at school remotely, but I can't stay at home; I go to the volunteer centre and help IDPs like me," says Kateryna.