"We do not have joint actions with international organizations. They do not want to come into close contact with us and share the details of the work": Daria Tsykunova about the terrorist attack in Olenivka and work with the International Committee of the Red Cross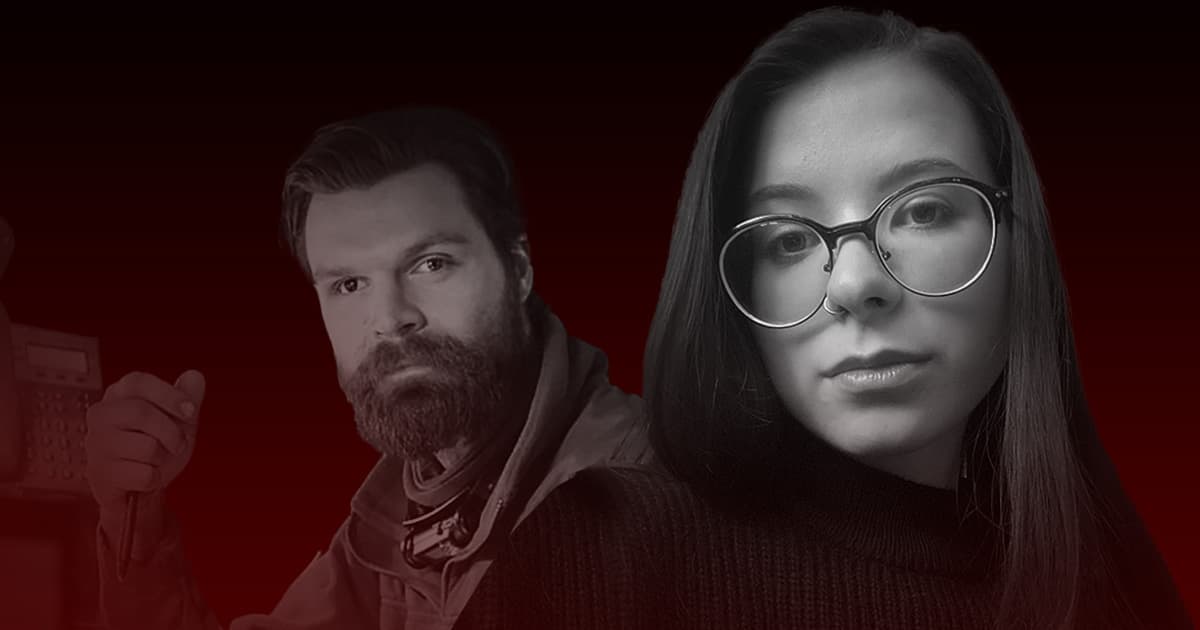 Svidomi recorded an interview with Daria Tsykunova, a representative of the Association of Families of Defenders of "Azovstal" and the girlfriend of an officer in the intelligence department of the "Azov" regiment, Illia Samoilenko.
What is known about the terrorist attack in Olenivka as of now?
The terrorist attack happened on the morning of July 29. Russia is trying to portray it as a strike by the Ukrainian military with HIMARS on the colony, but this information has been rebutted by many experts. In particular, there are the conclusions of the American Institute for the Study of War: satellite images show that as a result of the explosion, only one building of the colony was damaged, but its walls were not destroyed; also no shell craters. There are no torn bodies - they are burned.
Therefore, I agree with the analysts that Russia committed the terrorist attack on purpose. Most likely, it was a thermobaric explosive, because immediately after the explosion, a fire broke out. In an interview recorded by Russian propagandists, the surviving Ukrainian prisoner of war said that he saw a spark and a rapid ignition, after which the fire quickly started.
As of now, it is known that 53 fighters died, and another 145 were wounded.
What, in your opinion, was the motive of the Russian military when they attacked the colony?
The motives are clear. First, demonstrate your impunity. Second, commit a terrorist act to intimidate Ukrainians and demotivate the military at the front. Also to hide the consequences of their crimes against Ukrainian prisoners during interrogations.
After conducting an operation to rescue the defenders of Mariupol blocked in the territory of "Azovstal", the UN and the ICRC acted as guarantors of their life and health. Do you know what guarantees were provided by the UN and the ICRC?
They gave guarantees that they would monitor the implementation of the Geneva Conventions. Now we see that these conventions do not work and do not apply to prisoners. The Russian side does not allow the International Committee of the Red Cross to enter the territory of the occupied Donetsk region. Ukrainian military personnel in the colonies do not receive proper medical care — after their return, most of them will have incurable diseases and injuries, and many will be disabled.
We also know that there is not enough food and water in the colonies, this is evidenced by interviews — the servicemen have lost a lot of weight. Moreover, the water is of poor quality. The provision of normal food and water for prisoners of war must be guaranteed by the third Geneva Convention.
I learned from already exchanged prisoners that they are not allowed to go outside and get some fresh air regularly. There is no opportunity to do sports and read books.
Soldiers must have contact with their families. But even this is ignored by the Russian side, the UN, and the ICRC. International organizations did nothing to ensure that all of the above conditions were implemented.
It is known from the testimonies of already exchanged fighters that the ICRC visited the colony once before the terrorist attack. At the same time, human rights ombudsman Dmytro Lubinets said that the ICRC has not informed Ukraine but is in contact with relatives. Were there such contacts?
There were no such contacts with me personally. The only contact that most of the families of the prisoners had with the ICRC was regarding the collection of military personnel's data. When asked about the conditions of their detention, they respond with general sentences: "We are working on this issue, we are trying, and we want to help but...".
There were no specific actions or reports from the UN or ICRC.
What conclusions can be drawn about the conditions of detention of fighters in the temporarily occupied territories from the testimonies of those who were exchanged?
As for the interrogations, they testified about the use of torture. The soldier with the call sign "Tork" said that during the interrogations, the Russians inserted nails into the wounds to extract information about Denys Prokopenko and Sviatoslav Palamar under the pressure of physical pain.
Conditions are poor — there is nothing that is guaranteed by the Geneva Convention on conditions of detention. Terrible food, water, and torture from the colony's guards. Paramedic Yuliia Paievska also testified about this. According to her, the guards tortured the soldiers, forcing them to squat all day. They were ordered to learn the national anthem of Russia, and those who could not sing it "properly" were beaten.
All those released say that the Russians use almost all possible methods of assault. They are beaten because a person falls from exhaustion due to standing in one position with raised arms, and after being beaten, they are forced to continue standing in the same position.
How does the Association of Families of Defenders of "Azovstal" cooperate and communicate with international humanitarian organizations and the Ukrainian authorities?
We are trying to keep in touch with the ICRC and get them to act, but all we get are statements that they are trying, but Russia is not allowing the work to be done. We do not have joint actions with international organizations. They do not want to come into close contact with us and share the details of the work.
They communicated with the Main Directorate of Intelligence, the veterans' committee, and the Commissioner for Missing Persons under Special Circumstances, Oleh Kotenko, who was entrusted with the issue of prisoners of war. Apart from the Main Directorate of Intelligence, there was no interaction with the Ukrainian authorities.
What is the Association currently focusing on?
Representatives of the Association continue to communicate with international journalists and talk about the situation with prisoners — we are trying to raise awareness in the international community on the issue of exchange as much as possible, better and in more detail. We also communicate with the defenders' families and explain the algorithm of actions and how to behave when relatives are in captivity.
In addition, our work is aimed at the psychological support of families: we offer sessions with a psychologist as part of a joint project with the "Heart of Azovstal" organization, and we organize outdoor activities where we combine sports with psychological rehabilitation.
We have launched a new project — "Finally you are home" boxes, which we plan to use to welcome the military. These boxes contain necessities: clothes, shoes, personal hygiene products, a booklet about what happened while they were in captivity, and how the world supported them. This assistance is aimed not only at the material but also psychological support.
We will probably also provide psychological assistance to military personnel because we will have to adapt them to normal life.
«Now Azov is a symbol of indomitability, intemperance, and freedom. The return of prisoners should be a key issue on the agenda»: Daria Tsykunova about her boyfriend in captivity and the prospects for the fighters' return
Is it possible to influence international organizations to be more persistent and fulfil their obligations?
This could be facilitated by rallies and actions in EU countries and Ukraine, as well as posts on social networks. It is necessary to attract attention and remind the UN and the ICRC as often as possible that they have obligations that they must fulfil. Peaceful actions do not cause any harm but are an effective tool in this situation. Therefore, I advise you to follow the dates and places of demonstrations on the organizations' social media.
At the same time, it is not necessary to be aggressive, because it is our job, as civilians, to explain to the world why we need to act in a certain way.
What kind of requests should we make? First, to demand the exchange of those who were injured as a result of the Russian terrorist attack in Olenivka. We do not know what kind of medical care they receive, if at all. If there are about 145 wounded, it would undoubtedly be better if they were treated on the territory controlled by Ukraine in normal medical conditions, as well as with due attention, honour, and respect. They defended not only Mariupol but also the whole of Ukraine — they were concentrating Russian forces on themselves for 87 days.
Second, return the bodies of the dead. We know that Russia refused to do this because it is trying to hide the consequences of its crimes, it is delaying the time until it will be impossible to identify the bodies and conduct an investigation into the causes of death. Therefore, it is necessary to return the dead home as soon as possible, check all possible causes of their death, and show specific results in general.
Third, return all the living defenders home. There are no guarantees that a terrorist attack will not happen again. This time the Russians blew up one barrack, which stood apart from the general colony, next time they may blow up or shell the entire colony. Therefore, it is necessary to speed up the exchange; attract as many foreign politicians as possible so that they demand the return of the fighters from the Russian side.
If the conventions were followed, one could think about a phased exchange, but all rights are violated, so the exchange must happen soon.
You wrote that extraction could be an option for saving fighters. What are the prospects and ways of returning the prisoners of war?
Ways of return — exchange or possibly alternative salvage options like extraction. This opinion is not mine but of one of the fighters who was exchanged. In my opinion, it is certainly best to return the defenders of Azovstal to Ukraine. However, if Türkiye or another partner country offers to take prisoners of war to them and provide them with proper medical care, I will support the initiative. This is better than waiting for Russia to commit the next terrorist attack.
It should be clearer to politicians how to conclude such an agreement with a third country. My task, as the girlfriend of a man in Russian captivity, is to draw attention to the issue.
What is known about Illia? Did you contact him at least once in the colony?
We haven't talked to Illia since May 20. There is no communication from the colony. I don't know anything about him. All the information I have is what the ICRC told me: Illia is in Olenivka. I hope he wasn't in the blasted barracks.
I asked those who returned about him — opinions differ. I haven't seen him in any propaganda videos and I don't understand why. I can say the same about the fighter with the call sign "Tavr": he was also not seen in any videos. That's why we worry if they are alive at all. No public interrogations were conducted with them. Because he was in the media quite often, I understand that the Russians' attitude towards him might be different — with increased interest and attempts to find out information through torture.
In the last weeks at Azovstal, Illia was a man of few words. The psychological state of the military is understandable, so he did not say anything in particular. All his messages were monosyllabic and more like a connection test. I asked if he was kind of alright, and he answered that he was alright — and that was all. The only thing he said was that he lost 10 kg of weight. Then we agreed that I would return to Ukraine to work for his salvation.
How would you describe Illia, and how did you meet?
Illia is a unique person. Smart like an encyclopedia. Whatever you ask, especially about the military history, he knows everything. It is always interesting to talk to him.
Illia and I met in the company of friends during a concert. I asked how the prosthesis works, he began showing and telling me how everything works. It was interesting to listen to and watch him. Last summer, we began to talk more often, spend time together, and after the new year, we started going on dates.
On February 11, we talked and decided that we would be together. A week later, he went to Mariupol to lecture recruits and teach them military affairs. He was supposed to be there for only a week. Full-scale war broke out just a week later, and he decided to return to service. Last summer, Illia decided to return to civilian life, but it did not work out.
Why is it important to talk about "Azov"?
Now Azov is a symbol of indomitability, intemperance, and freedom. The return of prisoners should be a key issue on the agenda. They did the impossible, they did something that had never happened in history — they kept the defence surrounded for 87 days. They are already living legends. I hope that the survivors of the terrorist attack will return home alive and well because we need to talk about them not using news and books but in their words. They should compile textbooks on the history of Ukraine themselves, share their experience to oust Russia from our lands as soon as possible, free the people from Russian torture, end the war, and return the country to development and peaceful life.
What personally keeps you going?
I can't say that I'm particularly resilient: I'm used to reacting to stressful situations, and I understand how the psyche works, so my experience helps me. But of course, that stress, compared to a full-scale war, was ridiculous.
I give myself time to exhale. Despite the large volume of tasks for which I am responsible, I allow myself to rest. It can be just relaxing at home. At this time, I try not to communicate with anyone and engage in my new hobby — I arrange tea ceremonies for myself. An interesting and simple activity helps to hold on.
I believe that we will be able to save our men and women. I believe that I will see Illia soon and that he will return shortly. At least I want to believe it.